The Art of Facilitation Conference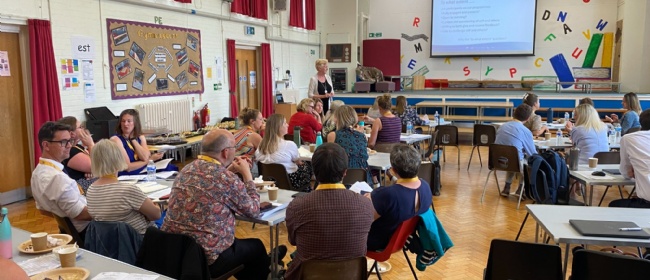 Investing in our Teacher Development Programme Facilitator Team
On Tuesday 11 July 23 we welcomed over 40 of our Teacher Development Programme facilitator team to Tanners Brook Primary school for our first ever facilitator conference entitled 'The Art of Facilitation'.
The day of learning and networking started with an opening keynote from Jonathan Johnson OBE (CEO – Changing Lives Learning Trust) who spoke about the impact of effective facilitation on school improvement, linked to improved outcomes for young people.
This was followed by two 'deep dive' style workshops facilitated by Dr Nicky Platt (Lead Education Advisor) and Nina Dhilon (Senior Education Advisor) from Education Development Trust looking at the Early Career Professional Development Programme and the different NPQ Programmes Curriculum. After, facilitators enjoyed a practical session engaging in deliberate practice use of online tools, before enjoying a wonderful lunch provided by Southampton City Caterers.
The afternoon was given over to two workshops facilitated expertly by Maggie Farrar CBE (Director of Empowering Leadership & Education Development Trust Associate) looking at creating high challenge & highly supportive learning environments and resilience and renewal.
Georgina Crooks (Assistant Director) said: "Without our team of expert facilitators then our Teaching School Hub work just couldn't happen. They bring so much local expertise to our training sessions for our ECTs, Mentors and NPQ participants."
David Higginbottom (Deputy Director) said: "The day was about giving something back to, investing in and saying thank you to our wonderful facilitator team. We are thrilled with the feedback that we have received, and it will become an annua event on our Teaching School Hub calendar!"
Hannah Stedmon, a facilitator from Highcliffe School said: "A brilliant day, with phenomenal speakers and workshops. So much to go away and think about, a brilliant way to end the term and feel galvanised to come back and put some of what I've learnt today into practice in September."
Clare Belli from the Southampton Inclusion Partnership said: "This was a fantastic day! I felt fed mentally, spiritually, and physically! Every session was both useful and inspiring. Maggie's session helped me to reframe some training I had to deliver the very next day. Thank you for the welcome and the attention to detail which made the day so reinvigorating. I must admit I had felt that I might be too busy to come.... I am so glad I did! Thank you."